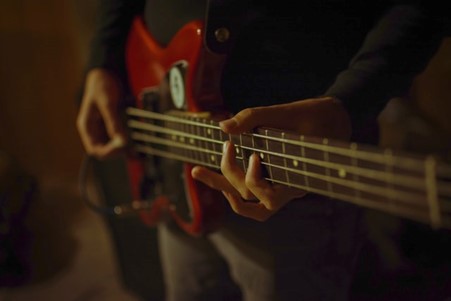 Learning to play bass has been consistently popular for over 70 years for a reason. Bass guitars have dominated rock's sound but also feature prominently in everything from blues to jazz and funk. It adds texture and keeps the tempo, forming the rhythmic foundation of countless songs.
Gerard Zappa of Wooster explains that rare and vintage bass guitars are so desirable, that several have gone for astronomical amounts. Here are some of the most astonishingly expensive bass guitars ever sold.
A 1969 Fender Mustang Bass
Fender Mustangs are cool on their own, often sporting vivid colors and design elements like stripes and gorgeous finishes. But one model was particularly cool because of its owner. A 1969 Fender Mustang used by the Rolling Stones' Bill Wyman between 1969 and 1970 was auctioned in 2020 for a whopping $384,000.
Sure, it came with an amp and other Wyman gear, but the guitar's legacy certainly accounted for most of its hefty price tag.
A Ritter Royal Flora Aurum
Even though this one didn't belong to a celebrity musician, it still will cost as much as an average-sized home. Ritter Royal Flora Aurum's go for $250,000, released by maker Jens Ritter to celebrate the 10th anniversary of the Ritter Basses company.
Why so expensive? The body is made from a rare piece of quilted maple wood, 10,000-year-old mammoth ivory is on the nut, there's a floral inlay pattern made from 24-karat gold on the fingerboard and diamonds are on the knob and knob position marks.
Yep, that'll do it.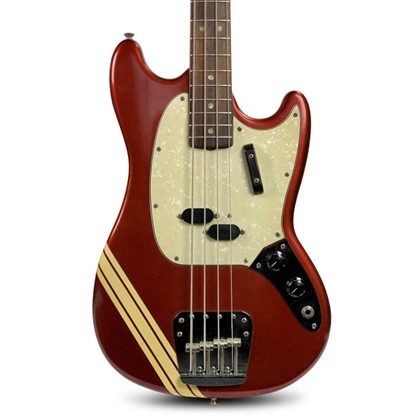 A Hofner 5001 Violin Bass
When he transitioned from the piano to bass, Paul McCartney's first bass guitar went for $45 — and he bought it used. Although he played it on the brink of the Beatles changing music forever, it still went for $204,000 at auction in 2013.
A Fender Precision Bass
A 1961 Fender Precision Bass, a perfect representative of the sunburst style, sold in 2017 for $68,875. It was once owned by another legendary musician — James Jamerson, regarded as one of the best and most influential bass players of all time.
Name not ring a bell? Jamerson played uncredited on most of the 1960s and 1970s Motown tunes, including "My Girl," "I Heard it Through the Grapevine" and "You Can't Hurry Love."
An Alembic Double Neck Goliath Bass
Sometimes it takes two to make an expensive bass. A two-necked Alembic custom bass model played by musician John Judge early in his career. The guitar, which has a design reflecting Judge's affinity for mythology, features a unique inlay with a dragon and a naked captive and is made of purpleheart, ebony, maple, zebrawood, and mahogany. It recently sold for an impressive $30,000.
A Zemaitis Heart Hole Bass
Many of the best British rockers owe their sound to Antonio Zemaitis, a Lithuanian cabinet maker who started crafting guitars in the 1960s. Instantly distinctive for its heart-shaped soundhole, the bass integrates spruce, rosewood, mahogany, and abalone. The Heart Hole Bass and other instruments from Zemaitis regularly go for at least $25,000.